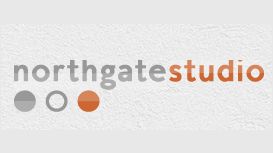 Northgate studio was developed in the summer of 2014. It was originally known as "The Handel's Court Gallery", which opened in 2012 and was an art gallery spanning three rooms on the first floor. The street level shop was originally a Butcher's, but is now the entrance to the studio, although, prints and photographs are the only things that get chopped up now. The studio now covers six rooms over two floors. There's also some printing equipment in the basement, but, you don't want to go down there.
Northgate studio is all about art and it's many factions. It is also about the people that make the art and who better to understand the needs of artists than other artists. But it's not just artists needs that are given love and respect, it's anyone and everyone.
Our friendly ethos of care is also carried over into the design and printing side of the studio. The design industry can often be faceless and non personable, with design agency's often only after the kudos heavy bigger clients.
---
Reviews and Ratings
Paula Knight, Chester, Cheshire
Excellent little studio with a sort of normal atmosphere really. Al, who took care of our design was very approachable and informative. I was pleased with what he did, considering I didn't really know what I wanted.