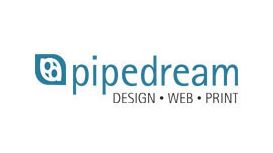 Quotes for Web Site Design, Web site Maintenance and Search Engine Optimisation. Graphic Design services include Corporate Stationery, Brochure Design, Marketing Materials and all other Promotional Materials. Our team of designers will custom build to and from any level within the London area. Pipedream offers a complete web design service - you may be looking for a single web page, a small marketing web site, a fully interactive database driven web site, one of our templated sites or a full, direct to bank shopping cart website.
Pipedream offers all corporate identity and marketing material including, Business Cards, Letterheads, Compliment Slips and Brochure Design. As with all reputable design companies, we do not cut corners or use cheap materials, you get what you pay for. We are proud of our customer satisfaction. Our pricing structure is fair and competitive, and we will do our utmost to offer you value for money.
---
Reviews and Ratings
We do not have any reviews about Pipedream Design available right now.