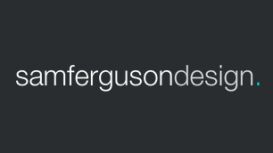 Many logo designers create 5, 10 or even 20 initial concept designs thinking that the higher the number, the better the service. Rather than churning out endless designs to fill slots I focus all my energy on creating the best design solution no matter how many revisions are needed.
The design process begins with a clear design brief which can be discussed face to face, via email or over the telephone. This discussion will lay the foundation for the design and establishes important information such as the values of your business, you're target audience, current branding and your budget.
---
Reviews and Ratings
We do not have any reviews about Sam Ferguson Design available right now.